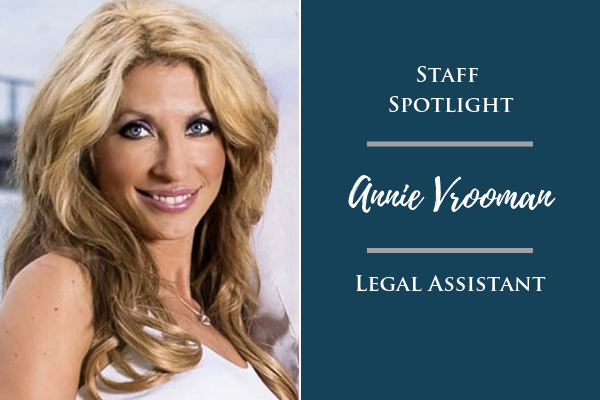 Written on June 12th, 2019
Meet Annie Vrooman, a Legal Assistant who has been with our firm since July 2018! Annie was born in Miller, South Dakota and grew up 34 miles east of Pierre, South Dakota on a farm.
Annie first started working as a Legal Assistant for the Carlon Law Office who specialized in divorce, bankruptcy, estate planning, probate and trust law, federal, etc. and then Riter, Rogers, Wattier & Northrup, LLP, working in various legal areas such as business law, litigation, cooperative and corporate law, insurance law, agricultural law, real property, telecommunications law, administrative law, estate planning, probate and trust law, federal (criminal) including trial prep, juvenile treatment placement, drafting briefs for the 8th Circuit, state, family law, general practice, etc. Annie also prepared numerous reports and tracked bills during the Legislative Session.
When we asked Annie what her favorite part of being a Legal Assistant was, she replied "I like the interesting cases, working with the clients, and the day to day busy and challenging atmosphere that comes with legal work. I also really enjoy talking to the clients and working to ensure they are happy by addressing their many questions and concerns.
A typical day for Annie can consist of a variety of different tasks, but she typically starts her day with getting organized by going through her daily working list, calendars, emails, voicemails, and files. Being a Legal Assistant is a busy workload which takes a lot of organizing and scheduling, multi-tasking, and deadlines to meet.
Annie is also the Vice President of the Black Hills Legal Professional Association here in Rapid City.
Outside of work, Annie enjoys spending time with her husband, Blake, and their two children, Matthew and Blaze. Most people don't know that Annie has sung all over South Dakota (as well as Nashville) and enjoys music, especially classical piano and singing. She also likes outdoor activities, health/fitness, and cooking. Annie also owned and managed a family business for 12 years and was in banking/lending for 6 years. Her favorite holidays are Christmas and Easter, and her all-time favorite movie is Nacho Libre. We asked Annie what her favorite quote is and she stated "Most people fail in life because they major in minor things" by Tony Robbins.
At Gunderson, Palmer, Nelson & Ashmore, LLP, we are glad that Annie is on our team! She is a great asset to have at our firm and brings a wealth of knowledge. If you have questions, please contact us at 605-342-1078 or stop by our downtown Rapid City or Pierre office locations today!
---