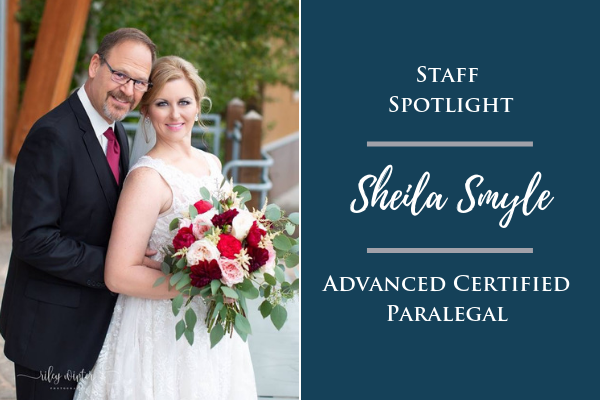 Written on April 03rd, 2019
Meet Sheila Smyle, an Advanced Certified Paralegal who has been working at our firm since 2015! Sheila first started in the legal field in 1990 as a legal secretary and then earned her Professional Legal Secretary Certification (NALS) shortly thereafter. She became a Certified Paralegal (NALA) in 2003. Since then, she has earned eleven Advanced Certified Paralegal Certifications in Automobile Accidents, Criminal Litigation, Entity Medical Liability, Individual Medical Liability, Intentional Torts, Premises Liability, Product Liability, Real Estate Principles, Trial Practice, Worker's Compensation, and Wrongful Death. Sheila is the only Advanced Certified Personal Injury Paralegal in the state of South Dakota and one of only eight in the entire country!
Sheila works for attorneys Talbot J. Wieczorek and Matthew E. Naasz, who both work in the practice areas of Business Law, Litigation, and Governmental, Administrative, and Municipal Law. We asked Sheila what a typical day is like for her as a paralegal and her response was "No two days are alike, which is one of the things I enjoy the most about it."
Sheila was born in Titusville, Florida and has been living in Rapid City since 1975. Outside of work she enjoys spending time with her husband, Frank, and their Pomeranian, Zeus. Together, they have three adult children and one daughter-in-law.
At Gunderson, Palmer, Nelson & Ashmore, LLP, we are glad to have Sheila on our team! She is very knowledgeable and plays a key role in our firm.
---