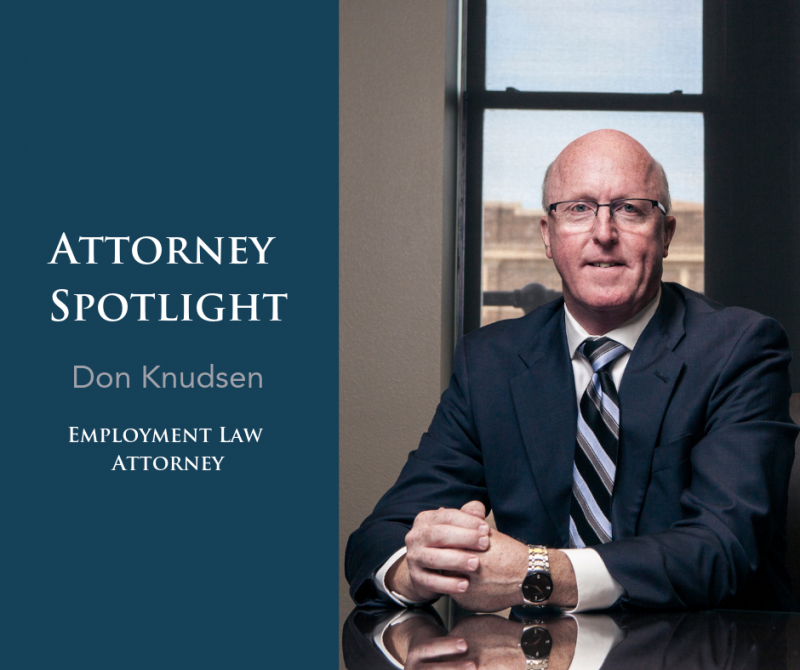 Written on February 08th, 2019
Meet Don Knudsen, one of our Employment Law attorneys who has been a lawyer for over 31 years! Don was born in Viborg, South Dakota and decided he wanted to become a lawyer after a reading assignment in his freshmen year of high school. He was required to read Shakespeare's "Merchant of Venice." The lead female character, Portia, disguises herself as a man (because women could not be lawyers at that time) and defends a debtor, Antonio, in court against a creditor, Shylock, who wants to collect payment – a pound of flesh. [SPOILER ALERT] Of course, she loses the case because it's clear the debtor hasn't repaid the loan. And so she concedes that Shylock may indeed take his pound of Antonio's flesh. But this was what persuaded Don to be a lawyer: although she agreed Shylock could take a pound of flesh she also says [paraphrasing] "But not one ounce of blood." Don thought it was brilliant and wanted to be like her.
When we asked Don what he liked the most about being a lawyer, he stated "Piecing together little bits of evidence to reconstruct some past event and prove (as best I can) my client's position is correct. And when it's not, negotiating the best possible outcome for my client." Don's practice areas include primarily employment law which consists of discrimination, retaliation, employment contracts, and governmental tort liability which entails defending cities, counties, townships, school boards, etc. He also handles personal injury and commercial litigation. Out of all the practice areas, civil rights is his favorite.
Outside of work, Don enjoys cooking with his wife, playing the Ukulele, building fly rods, and traveling. His favorite place he has been to is Norway and he would like to eventually travel everywhere along the Mediterranean Coast. Don and his wife have been married for 39 years and met while at a track meet in high school. Together they have a 37 year old son, two daughters aged 31 and 25 as well as seven grandchildren. He also enjoys watching the TV shows: How I Met Your Mother, Game of Thrones, Breaking Bad, and West World.
We asked Don what his favorite quote was and he stated "Twenty years from now you will be more disappointed by the things that you didn't do than by the ones you did do. So throw off the bowlines. Sail away from the safe harbor. Catch the trade winds in your sails. Explore. Dream. Discover." Mark Twain
At Gunderson, Palmer, Nelson & Ashmore, we are glad to have Don on our team! If you have any further questions for Don and would like to work with him as your attorney, please contact him today at 605-342-1078 or by requesting information through our website.
---